Welcome to the 2017-2018 Season!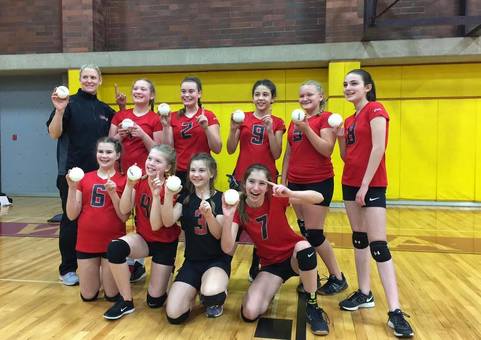 2017-2018 Season Information

MHAC Volleyball Club Parent/Player Meeting (All ages) - Wednesday, October 25th at 6:00pm in the gymnasium of Mt Hood Athletic Club. FYI-We will not have an 18's Team this season.
Open Volleyball Saturday, October 21st, October 28th & November 4th from 10:00am-12noon. Non-members welcome. Must sign in each visit. Location: Mt Hood Athletic Club

Tryouts

12's Sunday, November 5th Time: 11:00am
14's Sunday, November 5th Time: 2:00pm
16's Sunday, November 12th Time: 11:00am

​Tryout location: Mt Hood Athletic Club

Check mhacvolleyball.com for specific tryout requirements.

Before attending tryouts, participants must register or renew USAVB membership at

Columbia Volleyball Empire

, fill out the USAVB Health Waiver and bring a $15.00 nonrefundable tryout fee.

Contact club director

Nicole Johnston

for additional information and any questions.
Other Parent/Player Resources:
Here are few other helpful links and resources.
---
---
2017-2018 PRACTICE TIMES AND TOURNAMENT SCHEDULES:
Check the
Teams
page for your specific season schedule. Please note, some changes may still occur.
TBD
---
News Updates from CEVA:
The CEVA Volleyblog is a great way to get current information shared by Columbia Empire Volleyball. Check out the blog often.

Power League Information: All MHAC teams participate in CEVA Power League tournaments. Check out this helpful Vollyeblog on POWER LEAGUE: How it Works.

Need help paying for club volleyball? Please see our Scholarship and Sponsorship pages, but also take a look at CEVA's scholarship option, the CEVA MEMORIAL SCHOLARSHIP FUND.
---
TEAM MHAC MISSION:

We believe in hard work and working together.
We believe in effectiveness and efficiency.
We believe in logic and specificity.
We believe in facts, not opinions.
We believe the little things ARE the big things.
We believe in self-discovery and self-improvement.
We believe in goal-setting and a growth mindset.
We believe in evaluation and "feed-forward."
We believe in gratitude and humility.
We believe achievement isn't measured simply by a scoreboard.
We believe that success is the journey, not the destination.
We believe there's a win-win situation without the win-at-all-cost mentality.

At TEAM MHAC, we believe in helping all stakeholders (coaches, parents, players and staff) become the best people they can be. Each individual is a part of our program, our family and ideally, part of the TEAM MHAC legacy.

What separates this volleyball club from so many others? WE WORK TOWARDS BUILDING THE PERSON WITHIN... who will YOU become in the process?
---
NEWS AND UPDATES:
2017-18 Season Events
Winter Wonderland Middle School Dance (Club fundraiser) - Friday, December 8th 6:00pm-8:00pm. Admission price $5
Valentine Middle School Dance (Club fundraiser) -TBD​
Annual Club Banquet - Date: TBD (all teams)
---
Message from the Director:

When Mt Hood Athletic Club owner, Paul Reed, approached me about starting a volleyball club I was initially apprehensive and anxious. The prospect of building a club from the ground up was a bit overwhelming. However, my love of the game and the drive to provide young women in the East County area with a competitive, yet affordable club experience out-weighed my reservations. We began the journey in 2008 by really considering what the club mission and goals should be, and what type of club we wanted to create.
As a parent and an educator, I really value developing the whole person behind the game as well as fostering a love of the game. After much consideration, we decided to move forward on these guiding principles:
provide players with the keys to success on the court by developing technical skills and game knowledge
highlight and develop core values of participants such as leadership, reliability, and hard work beyond the court
support the community, the individual athlete, and encourage overall physical fitness of young people

keep the cost reasonable
I am proud to say that Paul and I have accomplished this goal in just a few short years. We now serve girls from a wide range of schools in the East County area and continue to uphold our principal values. The growth and success of individual teams is a testament to the hard work and dedication of our coaches, parents, and support personnel. Thank you to each of you that has helped make this club a success!
Go MHAC!!!
Nicole Johnston
MHAC Club Directornicole.johnston@ortrail.k12.or.us
---